'Tis the season for entertaining! As the year comes to a close, your calendar is probably bursting with dinner parties, work get-togethers, school programs and events, and of course, holiday gatherings of all sorts. Whether you're the one hosting, or you're in charge of a plate to bring, you won't go wrong with any of these simple and delicious recipes that certainly bring the Lowcountry straight to the dinner table. Read on to find the perfect recipe to make for main dishes, appetizers and side dishes, as well as desserts that'll not only be perfect for the holiday season, but for any event throughout the year.
Snacks & Appetizers
Southern Pimento Cheese
Recipe by Queenreyney on Allrecipes
A southern staple, this delicious spread only takes 15 minutes to make and goes great on crackers, pretzels, rolls, and more! It also makes for a great spicy addition to any cheese board. This recipe will become a go-to whenever you have company over, and will store well for up to a week.
Shrimp Boil Kebabs
Recipe by Southern Living Test Kitchen
Feel like grilling? These perfectly portioned Shrimp Boil Kebabs are a perfect take on a Lowcountry Boil with a Cajun flair that are not only easy to eat, but easy to prepare! Customize the recipe by substituting your favorite smoked sausage for Andouille sausage if you'd like, and adjust the size for smaller or larger bites.
Photo: Johnny Autry; Prop and Food Styling: Charlotte L. Autry (Southern Living)
Crab Cake Hush Puppies
Recipe by Southern Living Editors
We've found a tasty retake on two southern classics: crab cakes and hush puppies. Both popular appetizers as it is, these bite-sized hors d'oeuvres will be eaten up almost as fast as it takes to make them! Serve with a side of remoulade or cocktail sauce.
Photo: Oxmoor House (Southern Living)
Side Dishes
Cracker-Topped Oyster Casserole
Recipe by Food & Wine Editors
What better homage to the Lowcountry, than incorporating oysters into your meal? Easy to prepare within a total of a 30-minute period, this comforting creation is a mix of baked supermarket oysters, buttery crackers, and a bit hot sauce.
Photo: Noah Fecks; Food Styling by Drew Aichele; Prop Styling by Ethan Lunkenheimer (Food & Wine)
Autum Succotash
Recipe by Food Network Magazine
A favorite addition to southern tables, this side dish is super versatile as the ingredients can be altered to incorporate seasonal veggies, just like this autumnal version. Taking just under an hour to make, you'll want to give at least four hours after making it before digging in.
Photo: Ryan Dausch (Food Network Kitchen)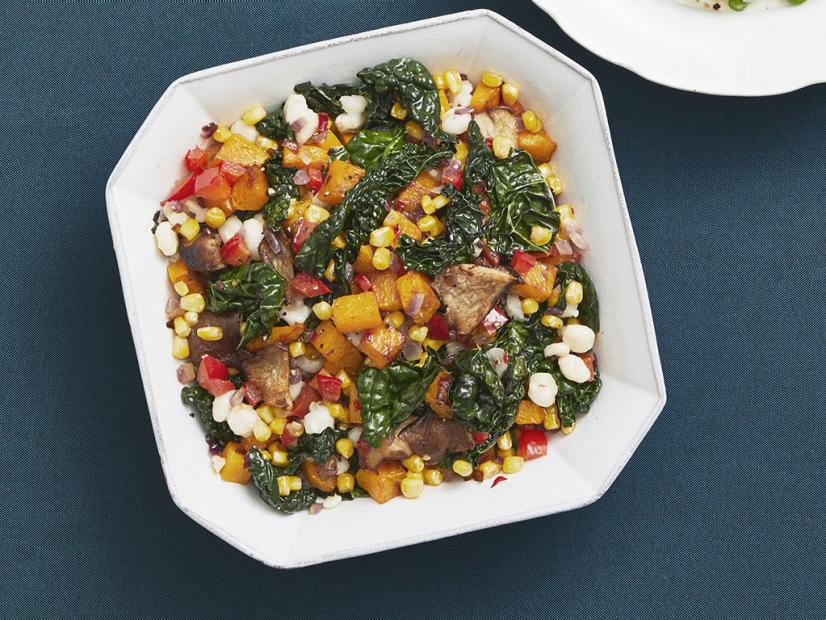 Stovetop Whipped Sweet Potatoes with Maple Pecan Drizzle
Recipe by Coco Morante with TheKitchn
Skip the oven and head to the stovetop, making this simple recipe pack a lot of flavor. The complimenting taste of maple syrup and the wonderful texture of pecan, this dish will be an instant hit. It also travels really well, so it'll be a perfect pick to bring to a dinner party.
Photo by Melissa Ryan (TheKitchn.com)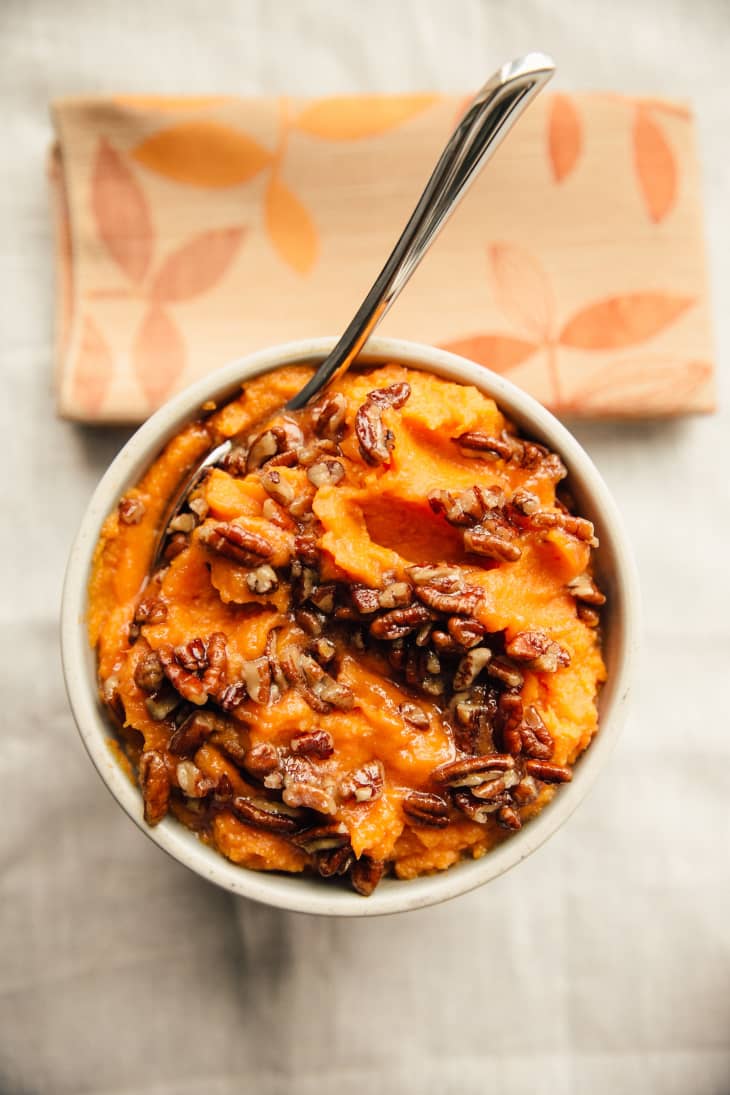 Main Dishes
Low-Country Boil
Recipe by Trisha Yearwood for Food Network Magazine
This certain recipe of this classic seafood creation ideal for big gatherings has been perfected by country music singer, Trisha Yearwood. A lowcountry boil is great for any time of the year, best eaten outdoors if possible as it can get a tad messy. This hearty dish can act as the whole meal if you'd like it to!
Photo: Anna Williams (Food Network)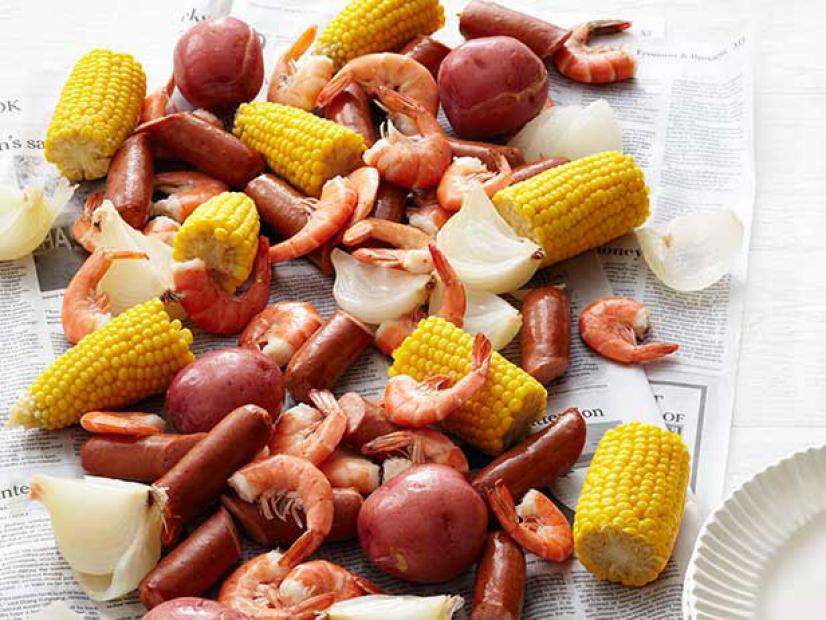 82 Queen's BBQ Shrimp & Grits
Recipe by 82 Queen's for Lowcountry Cuisine
Brought to you by a popular restaurant in Charleston that has arguably the best plate of shrimp and grits you'll ever eat, you might have to share this recipe with your guests once they've had a taste. Very simple to prepare, we're certain that you won't have any leftovers to put away–it's just that good!
Photo: Lowcountry Cuisine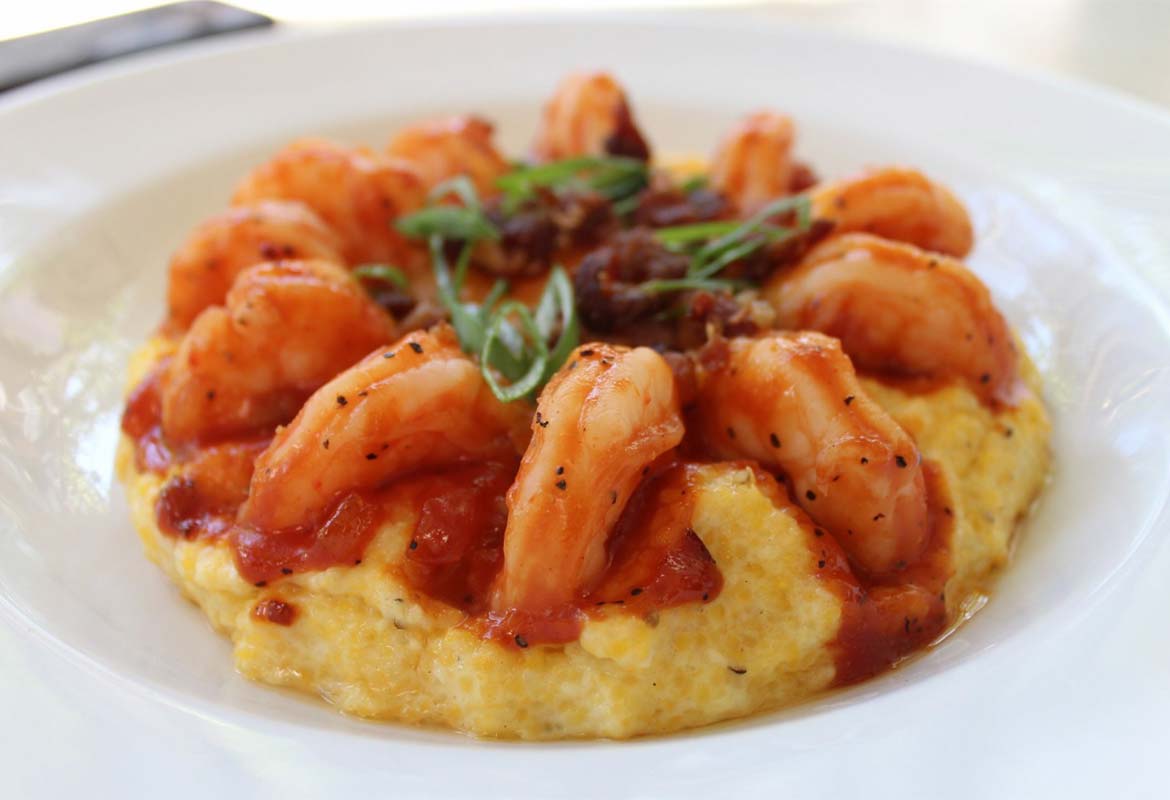 Chicken Bog
Recipe by Southern Living Editors
Included as a lowcountry favorite for our friends out there who aren't fans of seafood, the Chicken Bog is a chicken and rice combination that is a great way to feed lots of people. A traditional meal for those who worked in fish camps, Chicken Bog remains a legacy of region's history and culture.
Photo: Greg Dupree (Southern Living)
A Bonus Sweet Treat
Southern Pecan Pralines
Recipe by Amy for House of Nash Eats
If you're up to the task of making homemade candy, try your hand at this classic sweet treat. The perfect mix of cookie and candy with deliciously crunchy pecans, reminisce of your time in the Lowcountry by whipping up a batch of pralines to share with your friends and family. Or, pick up a batch the next time you're in town, we won't tell!
Photo: House of Nash Eats
---